Michiko to Hatchin
I just watched this anime this weekend, it was so good the best action anime I've seen since Black Lagoon. If you liked BL and haven't seen this yet yiu should give it a try. Ohgo Suzuka star of LA Sexy Voice and Robo does the voice of Hana and another jdrama actress Maki Yoko does the voice of Michiko.
You can download the entire series
here
.
Michiko to Hatchin (TV)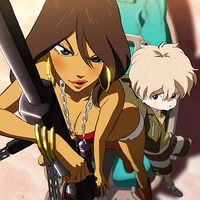 Alternative title:
Hatchin ميتشيكو الى (Arabic)
Michiko and Hatchin
Michiko e Hatchin (Portuguese)
ミチコとハッチン (Japanese)
Plot Summary:
Hatchin is a girl raised by strict foster parents who has long given up her dreams of freedom. Michiko is a sexy criminal who escapes from a supposedly inescapable prison. When she suddenly enters Hana's life, these two very different women set off on a journey across a lawless land in search of a missing man from both their pasts.
Median rating: Very good
Arithmetic mean: 7.973 (Very good-.02), std. dev.: 1.8427, rank: #506
Weighted mean: 7.8119 (Very good-.18), rank: #492
Bayesian estimate: 7.78967 (Very good-.21), rank: #343

Vintage:
2008-10-15 to 2009-03-18
2009-01-30 (Ep. 1-3, Italy - Future Film Festival)
Opening Theme:
"Paraiso" by SOIL & "PIMP" SESSIONS
Ending Theme:
"Best Friend" by Karutetto
Labels: Anime, download, Michiko to Hatchin